BOM June 2001
Windmill
12" finished size<![if !supportEmptyParas]>
<![endif]>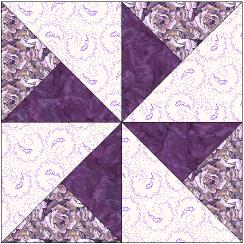 You will need 3 fabrics, Light, Medium, Dark
<![if !supportEmptyParas]> <![endif]>
Cut 1 dark square, 7 1/4". Divide the square diagonally twice to make 4 quarter square triangles (Figure 1)
<![if !supportEmptyParas]> <![endif]>
Cut 1 Medium Square 7 1/4". Divide the square diagonally twice to make 4 quarter square triangles (Figure 1)
<![if !supportEmptyParas]> <![endif]>
<![if !supportEmptyParas]> <![endif]>
<![if !vml]> <![endif]> <![if !supportEmptyParas]>

<![endif]>
<![if !supportEmptyParas]>
Cut 2 light squares, 6 7/8". Divide each diagonally once to make a total of four half square triangles.
<![if !supportEmptyParas]> Assembly:
Sew each Dark triangle to a Medium triangle, matching short sides to make 4 Dark/Medium half square triangle units. Sew each of these units to a light half square triangle matching long sides.
Square up the 4 units to 6 1/2" and assemble into the block. Follow the colored diagram for placement as you sew the patches together.